Outstanding Furniture Disposal Services At Your Disposal
Don't Watch the Clutter Build Up! Hire Our Furniture Clearance Service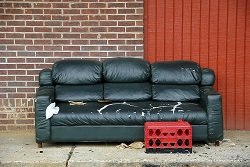 We all know how it goes; you have something you need to dispose of, but instead of dealing with it at the time, you put it off and put it off, usually adding more to the pile, until suddenly you've got a spare room full of unwanted or broken furniture, and no time to deal with it. With a now huge pile of stuff to dump, it begins to seem overwhelming and very stressful whenever you look at it, so you probably don't. But instead of getting yourself all worked up, call on
020 3795 6971
for a free estimate.
Waste Removals London is the top name in London for furniture disposal
, and we can get rid of it for you, no problem.
Furniture Disposed of Safely and Securely
It really doesn't matter what it is; from sofas to beds to old washing machines, if you've got old or unwanted furniture that you need to get rid of, we will be happy to help. We are not only experts in moving big and bulky items safely, we are also pros at disposing of it safely and responsibly in London. Much of what we dispose of for our customers is sent to recycling plants or reused for other purposes, so if you have furniture you no longer want or need, don't just throw it in the landfill waste, and
let us get rid of it in a way that won't damage the environment.
Do you part and we'll do ours.
Don't Struggle Alone
Even we have to admit that furniture disposal isn't exactly easy, it's hard work and often takes a bit of planning to do it safely and efficiently. But
we know what we are doing because we have decades of experience
, so tricky as it can be, we will still be able to get it done in less than half the time it would take someone less experienced. That is why we always recommend calling in the experts to handle your furniture collection; if it's not done properly, it really can be very dangerous and we don't think it's worth your health, do you? If not call on
020 3795 6971
and book an appointment today.
What Do We Offer You?
Our furniture disposal service is a handy thing to know about should you ever find yourself needing to shift some furniture. You might only need us once or twice, but we know that at some point you will need us.
So here are a few reasons why you'll want to call us
when you do find yourself with a wardrobe or sofa to move: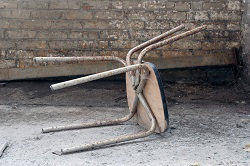 • Experience in all types of furniture clearance – we've handled sofas, beds, wardrobes, even pianos!
• Excellent customer service – when you call us, you are our top priority and we will make sure we do it your way
• Great appointment times for London– we work around our customers' needs, so can do late nights or weekends if needed
• Low prices guaranteed
• Money back guarantee

Beat the Rush – Book Today
In our business we tend to find there's never a 'quiet time', people need furniture disposals done throughout the year, all the time, but there are definitely busy periods; spring and summer are prime time for renovations so furniture removals often get popular. Then of course there's the winter holidays when everyone is getting new things in their home, so need help getting rid of the old. But if you don't fit into those categories, we recommend you call us today on
020 3795 6971
and book now to avoid disappointment.
We have a great team of people ready to take on your furniture collection needs
, but they can't be everywhere, so if you need something removed for a low, low price, then call Waste Removals London today.